FROMROME.INFO republishes this even at the risk of being shut down, because the salvation of souls and of lives is more important than any blog!
News Review by David Webster
THE NEO-FASCIST NEW WORLD ORDER ("THE BEAST") RULING THE WORLD PLANS  ELIMINATING 80% OF THE WORLD'S POPULATION AND TOTALLY CONTROLLING THE REST USING MEDICAL TYRANNY.
MASKS DO NOT WORK AND ARE MAKING YOU SUSCEPTIBLE TO SERIOUS HEALTH ISSUES LIKE DEADLY PNEUMONIA THIS WINTER. AND THOSE PUSHING IT KNOW IT!!  FALSE PCR TESTS, FALSE DEATH RATES "WITH COVID",  AND THIS NEW EMERGING "HEALTH CRISIS"  WILL BE USED TO SCARE US INTO A NEW MANDATORY RNA/DNA ALTERING "VACCINATION" THAT WILL MONITOR AND CONTROL US JUST AS WE HAVE BEEN WARNED ABOUT  IN REVELATION 13:15-18.  HOW FULLY ENTRENCH IN THE WORLD THIS TYRANNY BECOMES IS TOTALLY UP TO US!! CONFORMING TO THIS TYRANNY IS CONCESSION TO THE BEAST!
Nine studies, by NON-GOVERNMENT OWNED scientists, physicists, surgeons, microbiologists and other doctors warn about masking:
https://www.globalresearch.ca/facemasks-rising-crime-us/5718393
https://clinicaltrials.gov/ct2/show/NCT00173017
17 Medical Articles Debunking Masking and Warning of their Health Hazards:
2) "…laboratory-confirmed viral infections were significantly higher in the cloth masks group. Virus particle penetration was almost 97%. …the results caution against the use of cloth masks.. Moisture retention, reuse of cloth masks, and poor filtration may result in increased risk of infection."
11) The meta analysis is the most reliable data set as the reproducibility of results is scientifically so powerful.
12) "A total of six RCTs involving 9,171 participants were included. There were no statistically significant differences in preventing laboratory-confirmed influenza, laboratory-confirmed respiratory viral infections, laboratory-confirmed respiratory infection, and influenza-like illness using N95 respirators and surgical masks. Meta-analysis indicated a protective effect of N95 respirators against laboratory-confirmed bacterial colonization (RR = 0.58, 95% CI 0.43-0.78). The use of N95 respirators compared with surgical masks is not associated with a lower risk of laboratory-confirmed influenza."
16) Four authors of this scientific analysis of numerous publications has stood since 2011:
NEW ONE! 11-21-20 :
*If you must, conceed to wearing a face sheild, but still do so under protest to this unlawful tyranny. Remind your employer he is perpetuating an illegal evil tyranny and damage to people's health if he requires masking and that you have a medical exemption from the mask and that Federal HIPA laws prevent him from further inquiry. Remind him he is subjct to legal suit for any health damages by any of his employees.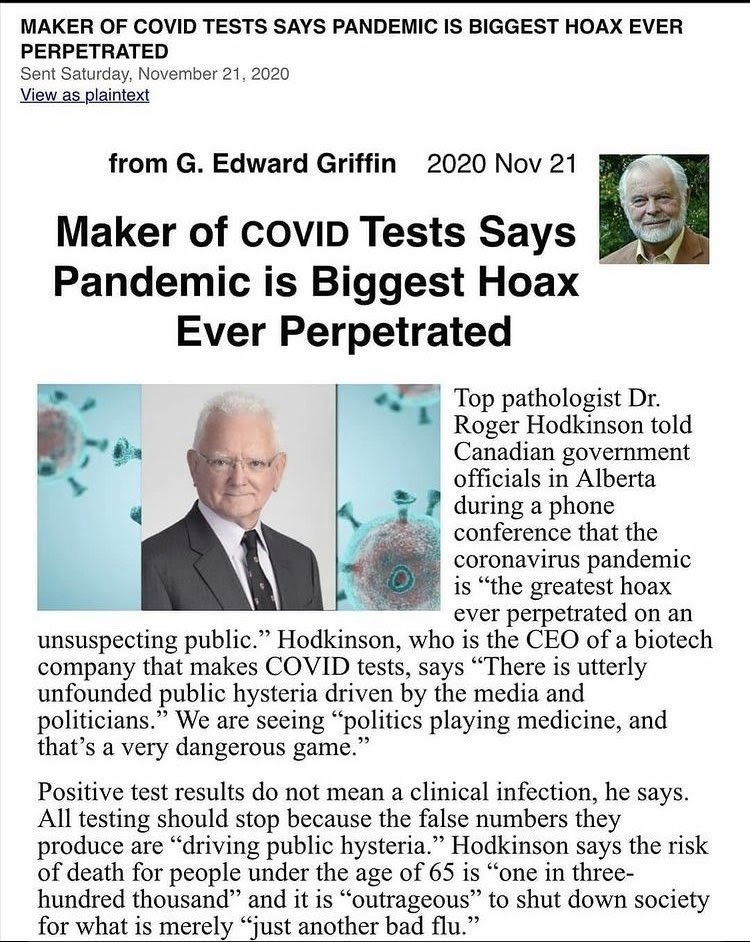 Former Pfizer Science Officer Reveals Great COVID-19 Scam (Video)


Story at-a-glance
There are no excess deaths. The same number of people have died in 2020 that, on average, have died in previous years. This simply wouldn't be the case if we had a lethal pandemic

The slight uptick in deaths now being reported in the U.K. aren't due to COVID-19. Data show these deaths — primarily people aged 45 to 65, with equal distribution between the sexes — are mainly due to heart disease, stroke and cancer, which suggests they are excess deaths caused by lack of routine medical care due to the pandemic restrictions [!!!]

The PCR test is not a valid diagnostic tool and should not be done on the scale we're now doing it. The high rate of false positives is only fodder for needless fearmongering

Virtually no one who is asymptomatic has the live virus, but when you run the test at a cycle threshold over 30, meaning you amplify the viral RNA more than 30 times, you end up with a positive test even if the virus is inactive and noninfectious

According to Michael Yeadon, Ph.D., a former vice-president and chief scientific adviser of the drug company Pfizer, very few people [ACTUALLY NO ONE!] will need the COVID-19 vaccine as the mortality rate is so low and the illness is clearly not causing excess deaths